"@#$%^- Fullerton -Forclosure" )
We rescued 8 adults and 5 tiny puppies (eyes not even open) from an abandoned forclosed house in Fullerton on 4/1/12. We then placed them w/3 other rescues here in San Diego (and our rescue as well)
Fullerton forclosure rescue 13 dogs.MP4
13 abandoned dogs and puppies left at forclosed house in Fullerton
________________________________________________________
_____________________________________________________________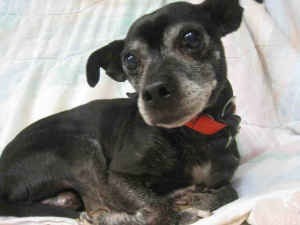 Ritchie is getting used to his new home quite easily. Hershey follows him everywhere and he plays with her once in a while. He jumped up on my bed and made himself quite comfortable for the night last night. He's very interested in the cats but they pretty much ignore him. He walks well on the leash and he loved our visit to the dog park this morning. He's a good eater and he likes to sit on my lap while watching TV. He's just learning his way around the neighborhood. He turns up each sidewalk to the front door of each unit. I tell him not this one, he then turns around, walks back down the sidewalk to the next unit. Finally, we make it back to my unit and he wags his tail to go in.

Thanks for letting me adopt Ritchie. I sent the adoption agreement in the mail today.
____________________________________________________________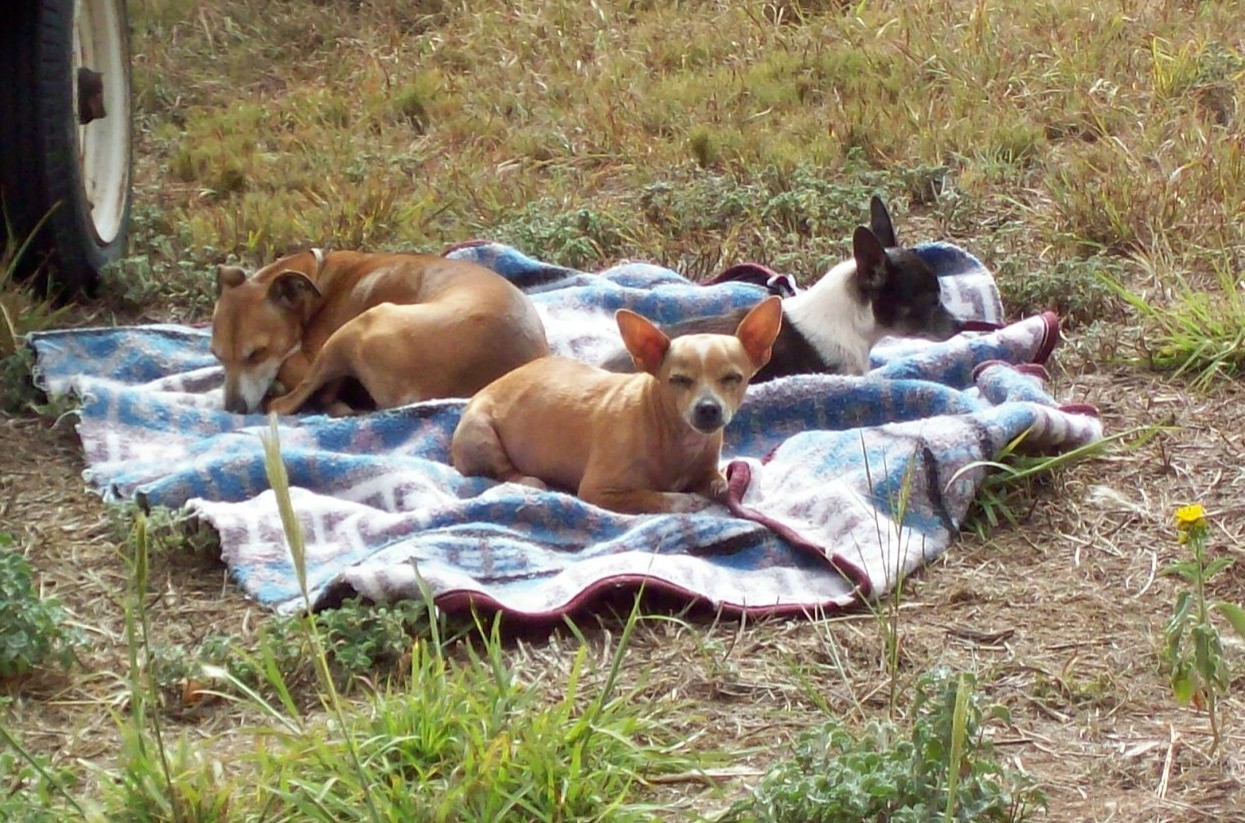 Just thought I would pop in and tell you how happy we are with
Skooter
. You are a great rescue agency. I attached a picture of Skoot relaxing after a hike. He is thoroughly
enjoying being a ranch dog; he feeds the horses with me every morning and night!
____________________________________________________________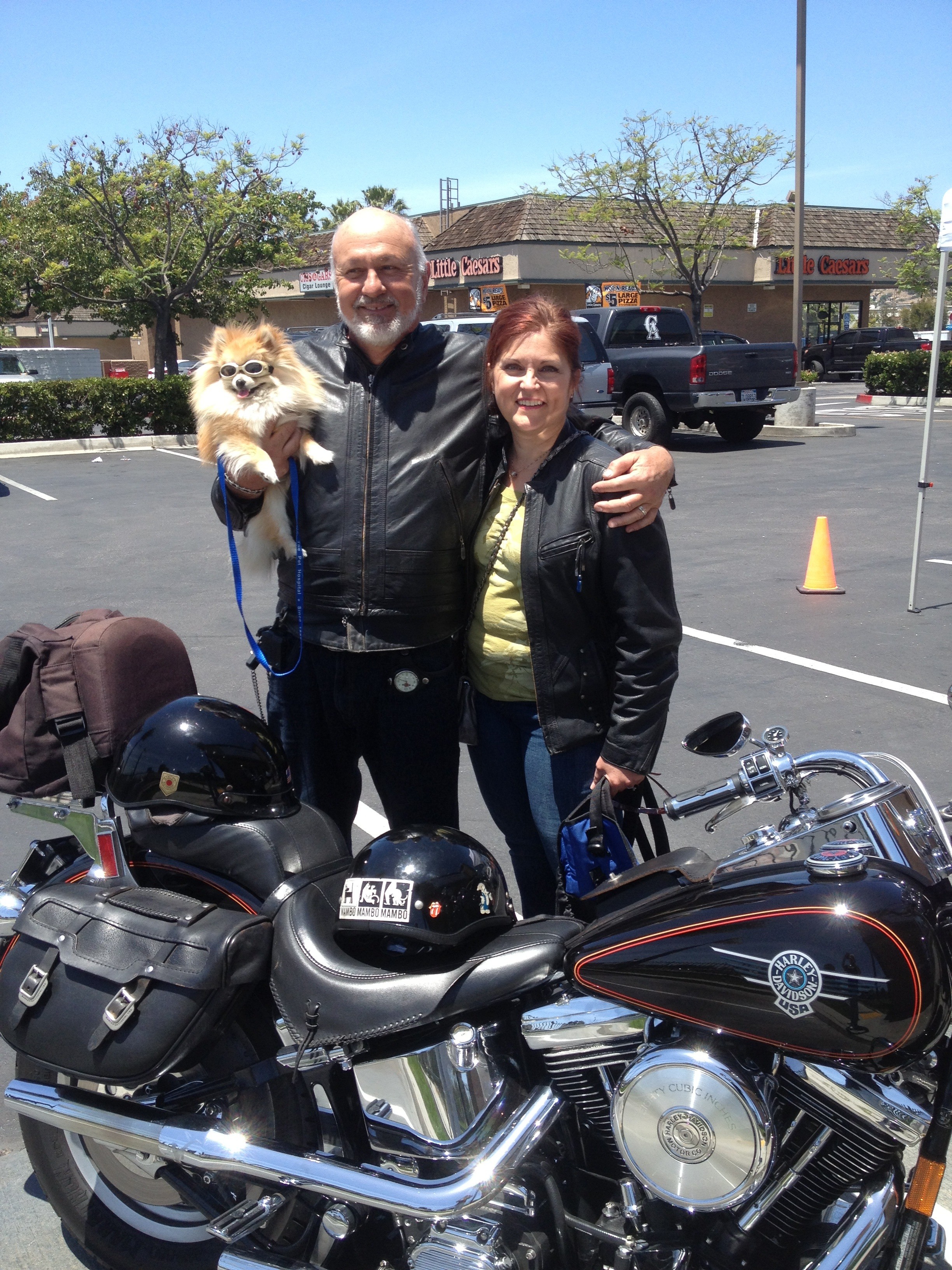 Cocoa

is doing wonderfully, she's definitely part of the family already! We went out and bought a king sized bed because both Cocoa and Petey want to sleep with us....they're not spoiled or anything. We were hoping with both of them they would sleep on their Futon but nooooooo...lol! Both dogs are still in the "getting acqainted" stage and are both trying to assert themselves as the "leader" but the little arguments are getting less and less and they even give each other kisses once in awhile...
Sure glad we got her....if we had more room we'd get more! LOLOL
Just an update on Coco....She's definitely part of our family and is enjoying our new king-sized bed. She and Petey are playing together but still
have territorial issues on toys. Just like kids, they both want the same one out of the gazillion all over the floor! I am so happy we adopted her, she brings us hours of enjoyment and she's definitely a good friend for Petey. We'll be taking a road trip to Vegas to meet her "grandparents" very soon, should be fun!
____________________________________________________________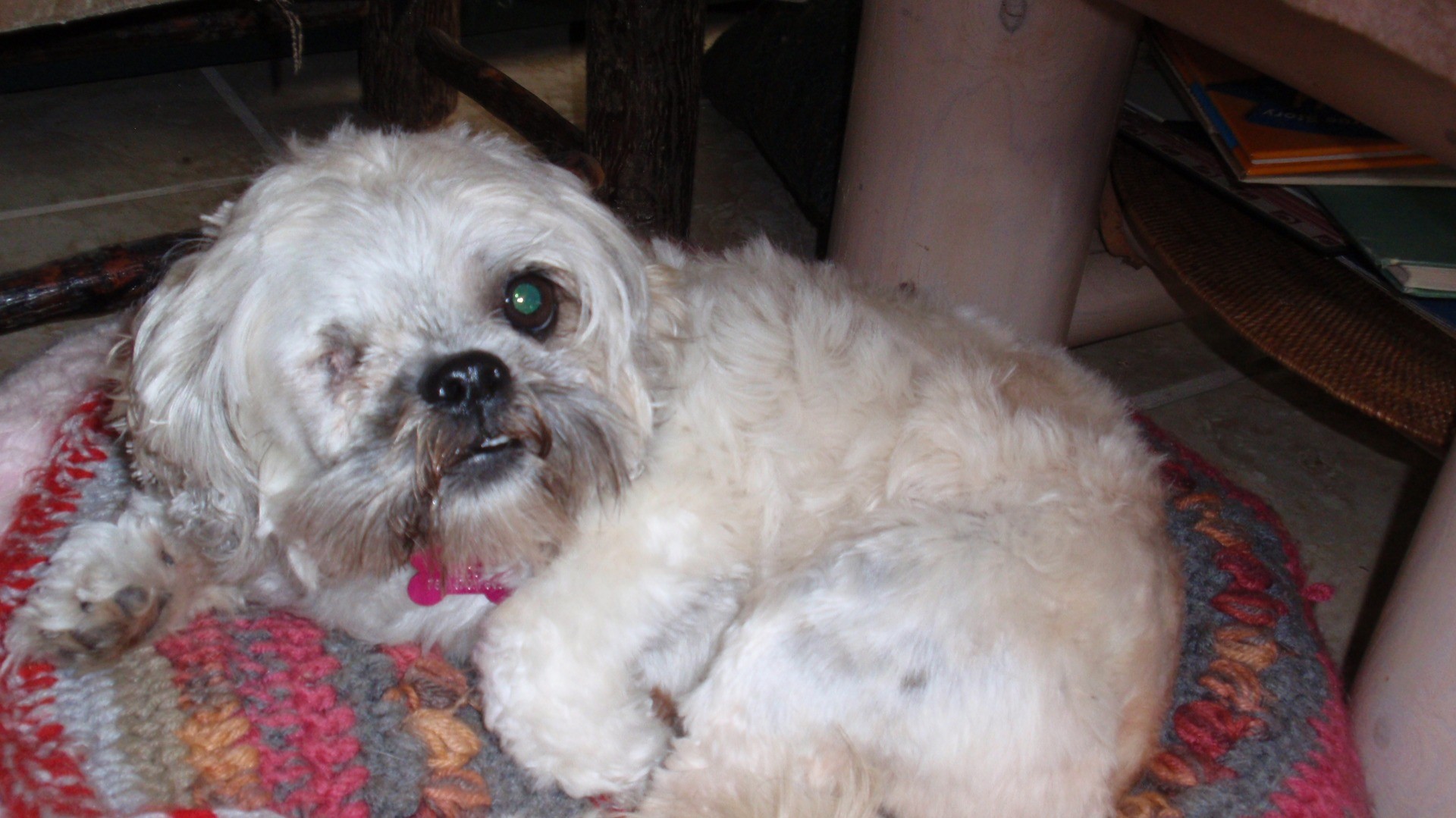 We though you all might enjoy a picture and an update on the courageous
Miss Cookie Lee
We got her mauve stroller but only had to use it for maybe a week. She went from only going down one house to down the street in no time at all. She did not like the speed bumps in the park at first so we had to guide he through open space in the middle or lift her over them. She now knows her way around the park so well that she walks without her leash and knows which houses to visit for treats. It amazes us that she will run down the street with Max, the maltese, at full speed. We walk in the park twice a day and go outside the park for a walk in the afternoon. She will walk anywhere we want her to go. She goes up and down steep gravel paths without hesitation. The only problem is that she can stop and sniff in one place forever and is hard headed enough that she moves only when she is ready.
She has her scheduled perfectly figured out. She sleeps in til about 9 then goes for a walk, stops at Grandpa's on the way home ( our 90 year old neighbor) for a visit but then has to get home for her greenie. She relaxes until about noon and then has her lunch, hand fed by her Mom, then takes a nap until it is time for her afternoon walk. She then has to build up her energy for the evening walk and dinner. About 10 o'clock you can find her laying in the hallway in front of the backdoor waiting to go out before going to bed.
You can probably tell that we have fallen head over heels for this little girl and we really appreciate having her in our lives. If anyone ever has any concern about adopting a blind dog just have them give us a call.
Merry Christmas and Happy New Year
Dean, Teri, Max, and Cookie Lee
UPDATE:
We may have to change her name to Queen Cookie Lee. He new Mom just thinks the sun rises and sets on her. They are inseparable for most of the day. he finds her way around the house really good. She makes it back and forth from living room area to the bedroon and to the utility room for food and water without any problems. In fact she just walks down the middle of the hallway almost like she had eyes. She jumps on and off the couch without hesitation.
I have to carry her outside to use the bathroom but I actually enjoy it becaue she lays her head on my shoulder and put he paw around my neck like a little baby. She finds her way around our very small back yard easily and lets us know when she wants to go out.
We have tried walking her on a leash but so far have only made it about two houses down the street. She just freezes up when she gets unsure of where she is at. One of these day we will get her around the park. She goes on walks with us every evening so she will get to know the smells and the people here. We borrowed a baby stroller from our daughter so she could get around comfortably and she seems to really enjoy it. Her new mauve stroller is on order for Babies R US and should be here in about a week.
She and Max, the Maltese, get along pretty good. They sometimes bump into each other and just keep on going. If she tries to sniff him he just growls and she moves on. I think she is really going to make a change in him and how he gets along with other dogs.
Thanks again for letting us have Cookie Lee and we will send you some pictures as soon as we get some.
____________________________________________________________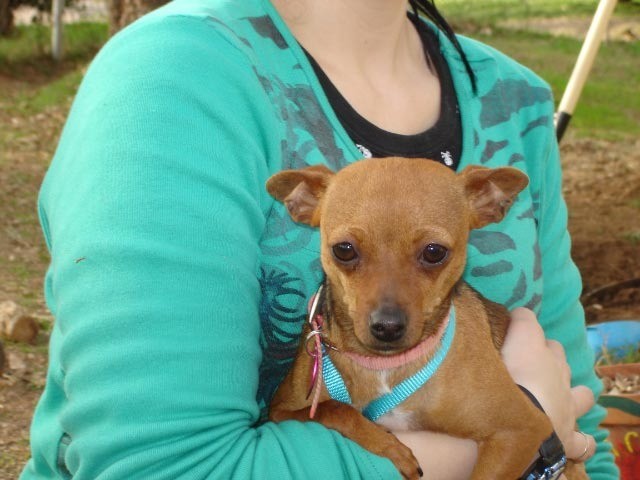 It's amazing how well

Mizzy

, our newly adopted Chihuahua mix has blended into our family. By the end of her first week it felt like she had always lived with us. We already had two dogs and a cat. The cat took the longest to warm up but now they play together all the time.
It's so entertaining watching all four play and it gives me a nice feeling to know shehas a happy life!
____________________________________________________________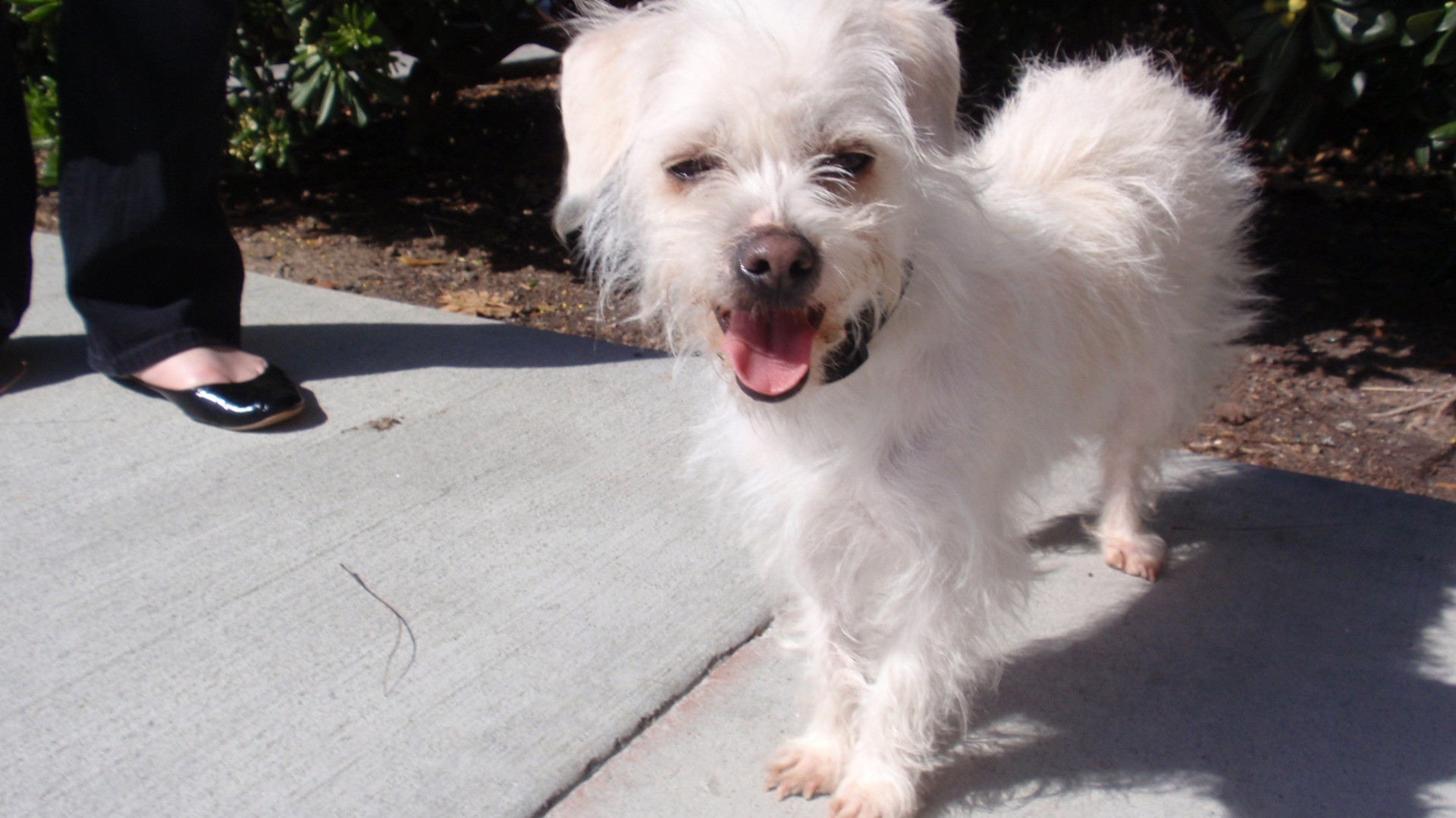 I just wanted to thank you again for all your great work with those sweet little dogs and to update you on

Kasey

. My mom just loves Kasey and its pretty apparent that Kasey is the perfect dog for my mom. They spend much of their time in the backyard in North Park that looks out onto a canyon and Kasey runs around like she's boss of the neighborhood. When they're not outside, Kasey spends her time sitting on my mom's lap helping her watch TV. So all's well with Kasey and thanks again!
____________________________________________________________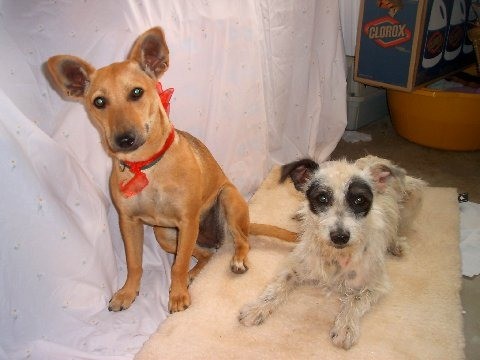 Papp
in "new mom's" arms, checking out his new brother Sammy
____________________________________________________________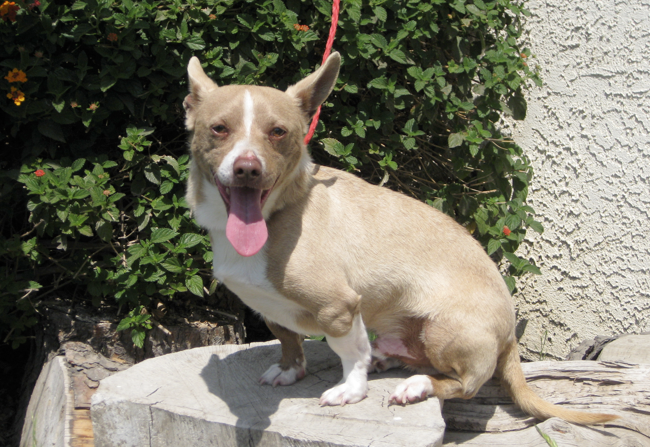 Valentine

(Val for short) is doing stupendous. We're still working on house training him, he's not perfect, but hey who is, he does manage to hit the pads most of the time Val is such a chill/relaxed dog, we couldn't have found a better match. He follows us around the house like a little shadow, and sometimes (more often than not) the lil bugger sleeps with us. He currently knows how to sit and stay and now we're working on high five and shake commands. He loves having his belly rubbed and unfortunately hates baths.
Denise Delosreyes, San Diego
____________________________________________________________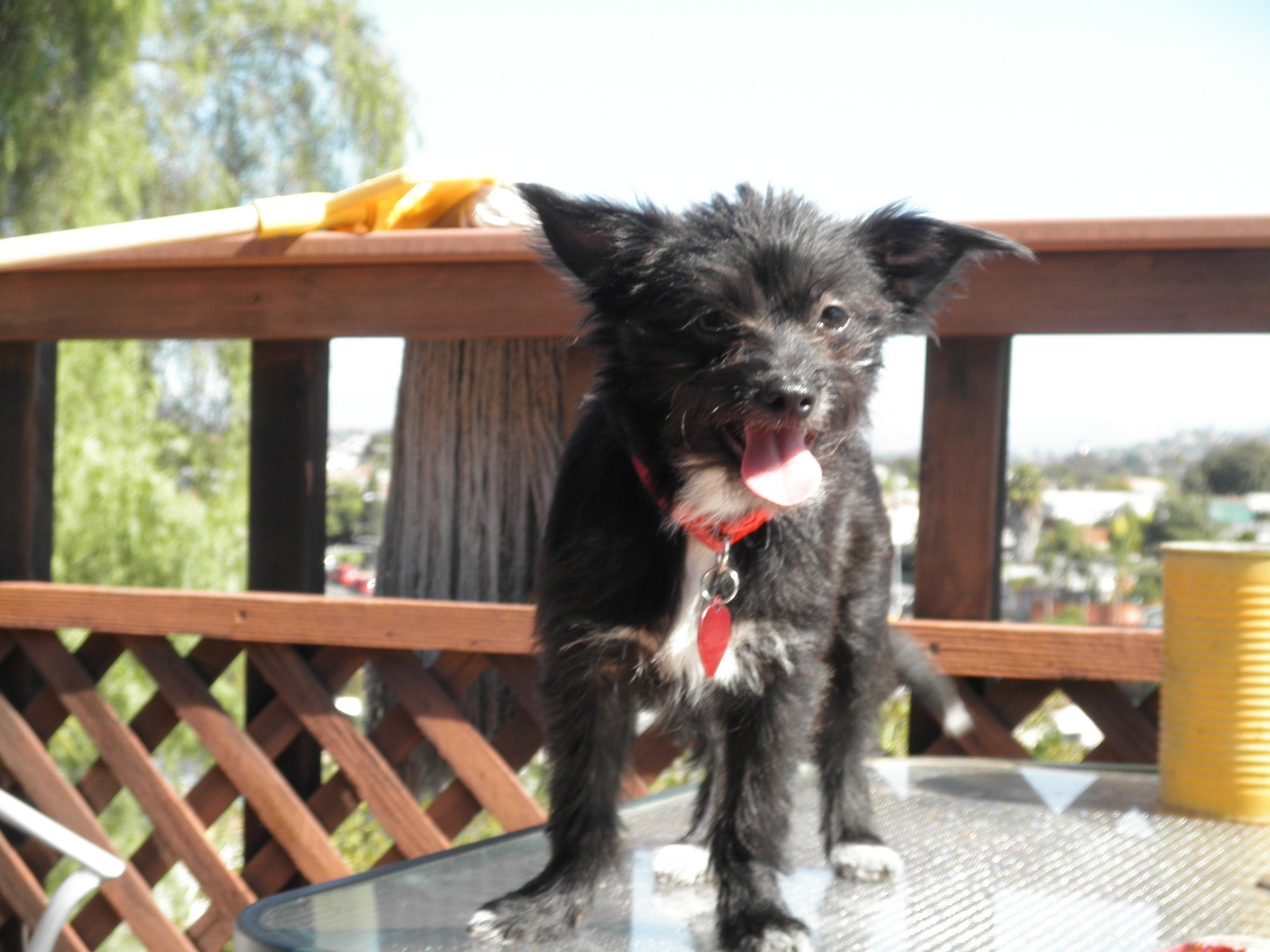 Jenny This is

Roxy

a year later. She has been such a blessing to me and my family. Thank you!
____________________________________________________________
This is Lulu and Scooter our 2 little paraplegic Chihuahuas that we adopted out to a wonderful couple in New Mexico 1 yr ago:
Lu Lu and Scooter are doing well. Michael took the attached pictures yesterday for me. They certainly enjoy beingout in the sun. We purchased a play pen for them to use outside when we are not right there. You know how Scooter likes to travel, and the pen keeps him in check.Lu Lu and Scooter have both bonded with Michael and follow him everywhere around the house.
____________________________________________________________