Why foster?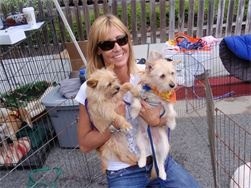 We operate foster homes all over San Diego county and are currently seeking more foster homes to help with the many dogs in need. In foster care the pet learns not only to trust that food and water are a daily occurrence, but also learns about life in a home. Instead of waiting to be adopted from a barren holding pen, foster animals get a head start in a therapeutic environment where they transition from uncertainty through consistency and gentle care. It is often the first kindness these animals have known. This is the point at which the homeless pet is truly rescued; when they are rehabilitated both physically and physiologically and placed into a loving, responsible and permanent home.
The foster family not only prepares the rescue for home life, but is also able to inform prospective adopters all about the personality of the foster pet. The foster person can pass along information for the adopter, such as whether the dogs are good with kids or cats and whether they will need an active home or a quieter home. Within the foster home the animals' confidence and trust builds.

We post our dogs on Petfinder.com, Craigslist and 1800-save-a-pet, and 140 other internet pet sites so they do get a lot of exposure.
Are foster animals healthy?
None of the animals we place in foster care have transmissible illnesses. They have all been fully vaccinated prior to being released to the foster family.In fact, most of the dogs we rescue are not in need of medical attention, but some do need special care.
Is fostering an animal expensive?
Although we prefer that foster families provide food, we will be happy to donate food to those who need it. Many of our rescued pets simply need good food, a warm bed, consistency, and most of all, lots of love and affection.
We rescue all shapes, sizes, breeds and ages. Each foster person chooses the pet or pets they wish to help. But they must remain committed once they agree to help, As soon as the pet has received all the pre-adoption care it requires, he/she is ready to find its permanent home!
Before you decide to be foster person, consider whether you have the time. Foster pets are "special" and cannot be left alone for long periods of time. Also consider whether you have the support of the whole family and whether you will be able to "let go" when the perfect adopter comes along!
If you would like to donate:
DONATIONS CAN BE MADE THROUGH PAYPAL