Adoptable Dogs ..........
During the COVID 19 Pandemic we are still doing adoptions, all our adoptions still require homechecks but we can do this masked and gloved up and keeping a distance... or sometimes virtually with FaceTime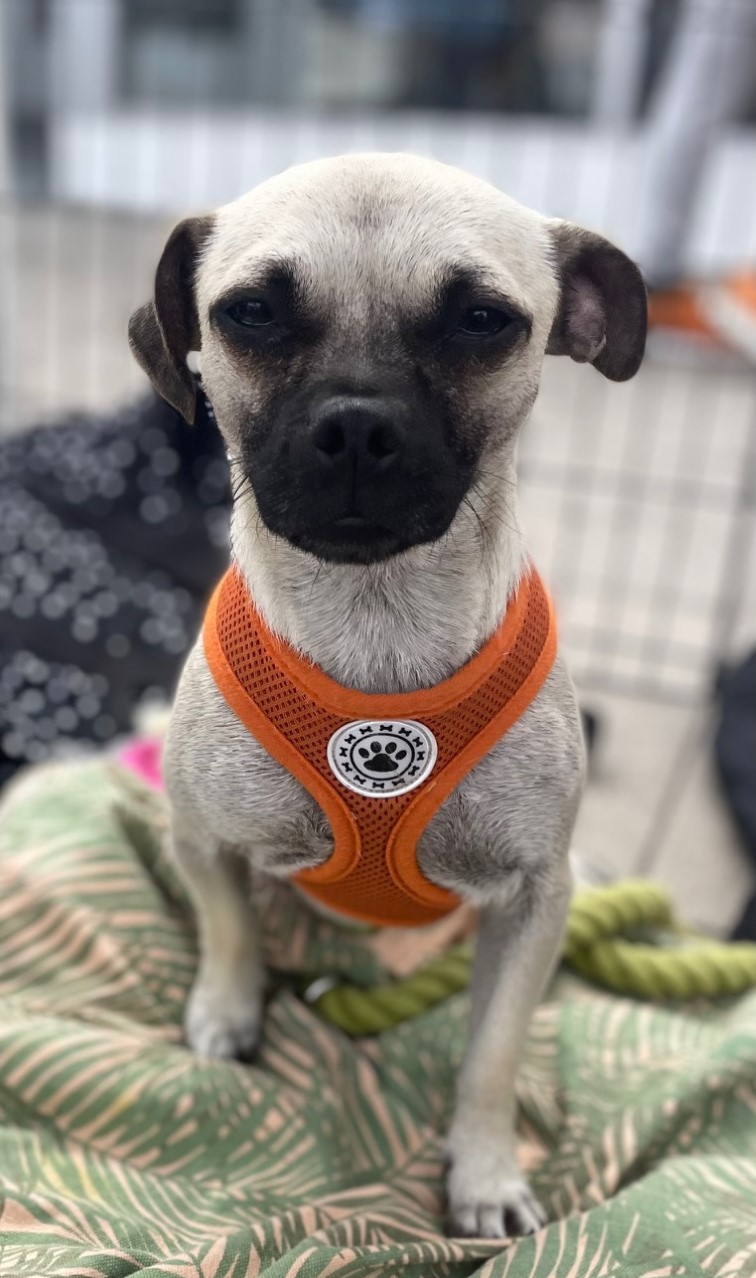 I'm Minnie, and I'm a ten pound chuggle; also known as a pug/chi mix. I'm the perfect little package of sweet and fun, and I'm ready to be adopted. I'm so excited to have a forever home, and have a new mommy and daddy. I can also have a new brother or sister cause I get along with everyone and really just want someone who can take me on daily walks and let me cuddle with them on the couch. I am house-trained, kennel trained and leash trained. I'm pretty much perfect! And have you seen how cute I am?
10 months old - 10 lbs
"Bella" English Pointer/Fox Terrier X- female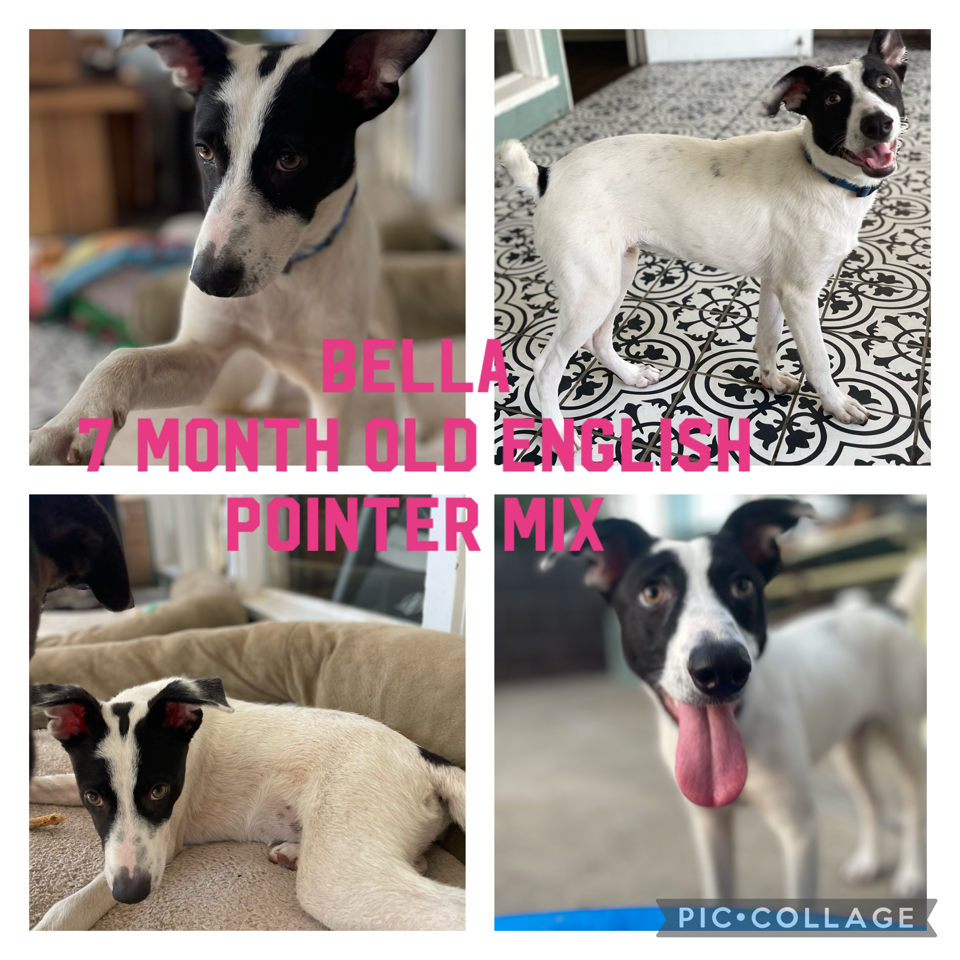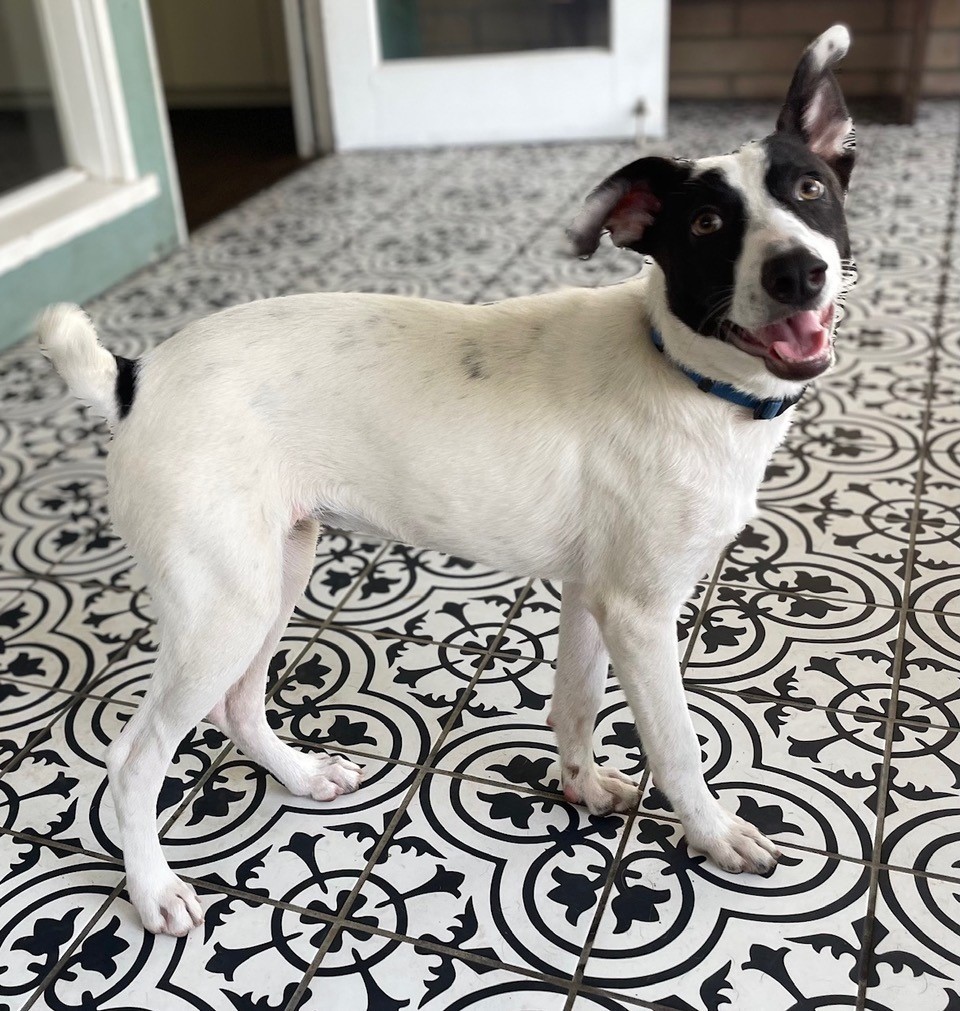 Hi, I'm Bella! I'm a fun-loving, sweet 7 month old pup who can't wait to get adopted! I dream about having my mommy or daddy throwing balls for me in our yard, which I'm learning how to catch. Or going to a doggie beach or park and playing with other dogs like I do with my foster sisters and brothers. It's so much fun! I love to play with my toys and wag my stumpy tail non-stop when my foster mom comes homes. When I was a baby, my foster mom rescued me from the streets of Tijuana where a nice security guard kept me safe until the rescue could pick me up. I was so little running around looking for my mommy, but I was a brave girl and am not scared. I'm very smart too — house trained, kennel trained and learning the leash. My foster mom says maybe I can go to puppy school soon with my new family, and I know I'd be the best student cause I listen so good. I'm going to be around 40-50 pounds and I'm confident, I'm going to be the best dog ever!
7 months old - 25 lbs (but should reach 40-50 lbs)
"Frosty" American Eskimo/Chihuahua X
youtube link: https://youtube.com/shorts/Be7urczQugk?feature=share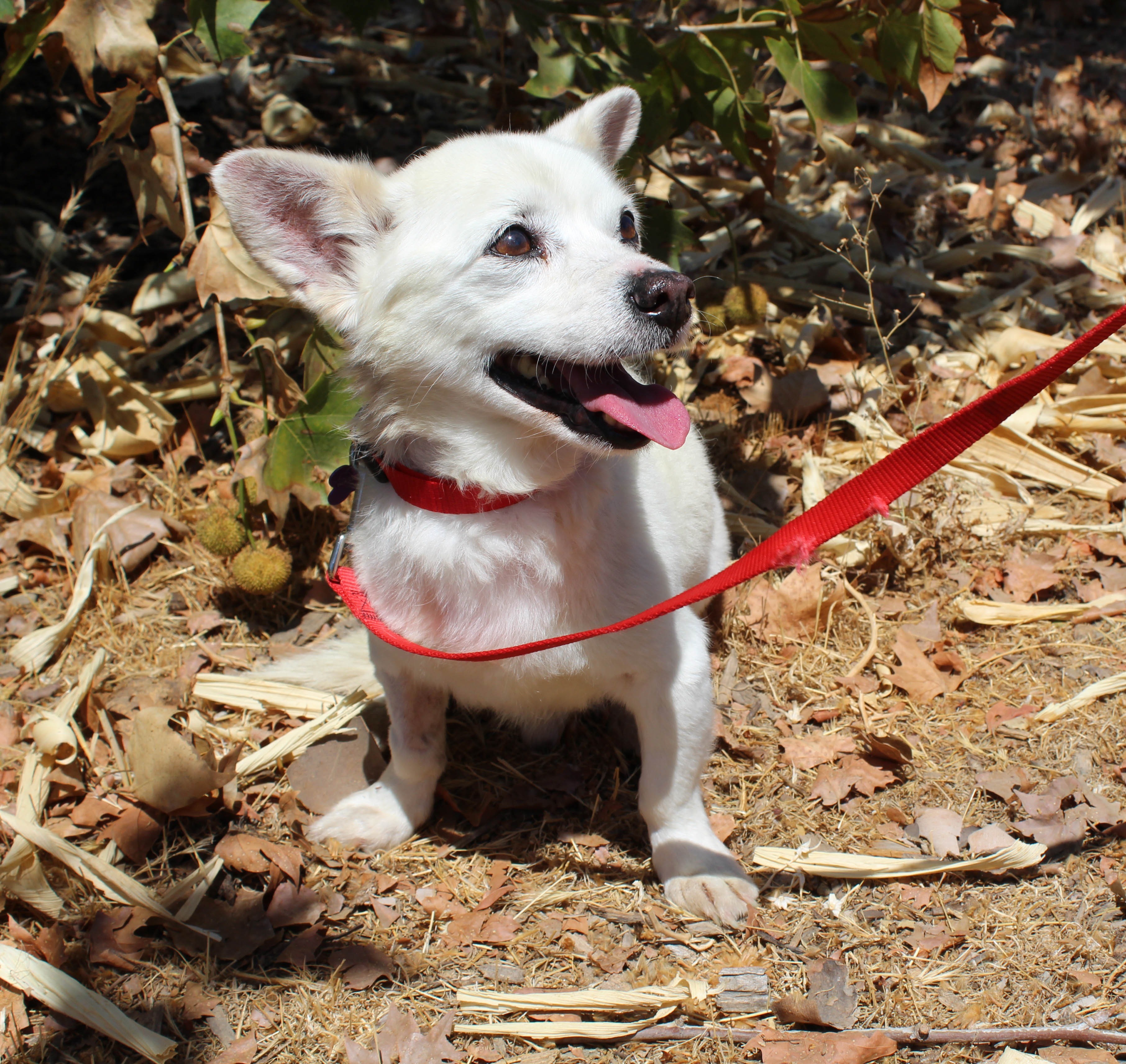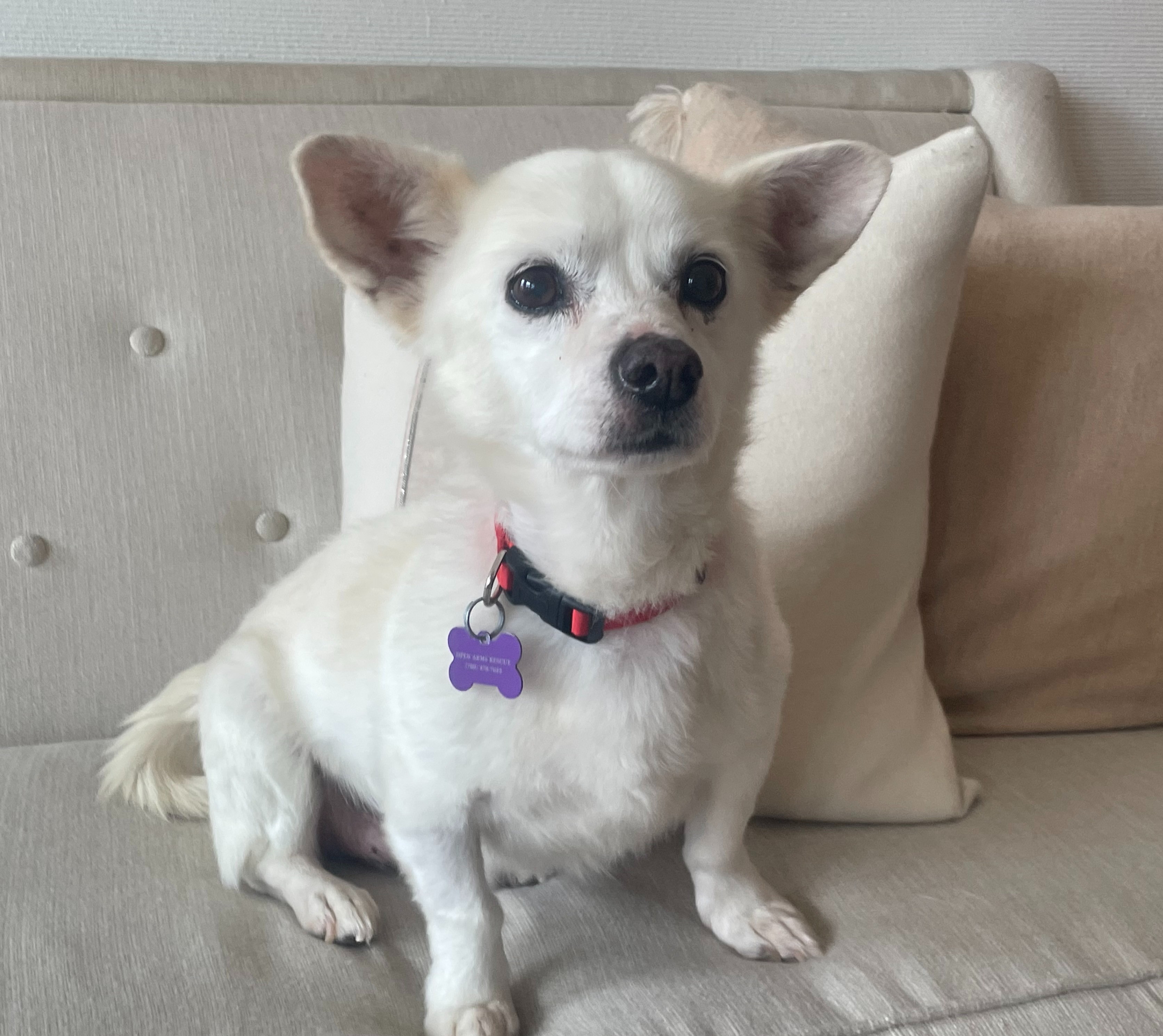 Frosty is such a sweet little love bug. He just wants to snuggle and be with you. He looks like a fuzzy little teddy bear. Frosty would do best in a home with someone there all the time and he does want to be an only child and just be your best friens and have you all to himself. He will follow you around and loves to go on walks. Loves toys and his fuzzy bed to chill out in. He is good in the car too. He gets jealous of other doggies trying to hog his foster moms attention so best an only child. Also he is not big on cats. But very loyal to you!!!
10 yrs old - 12 lbs
"Sally" dilute tortie- female
1 1/2 yrs old -5.5 lbs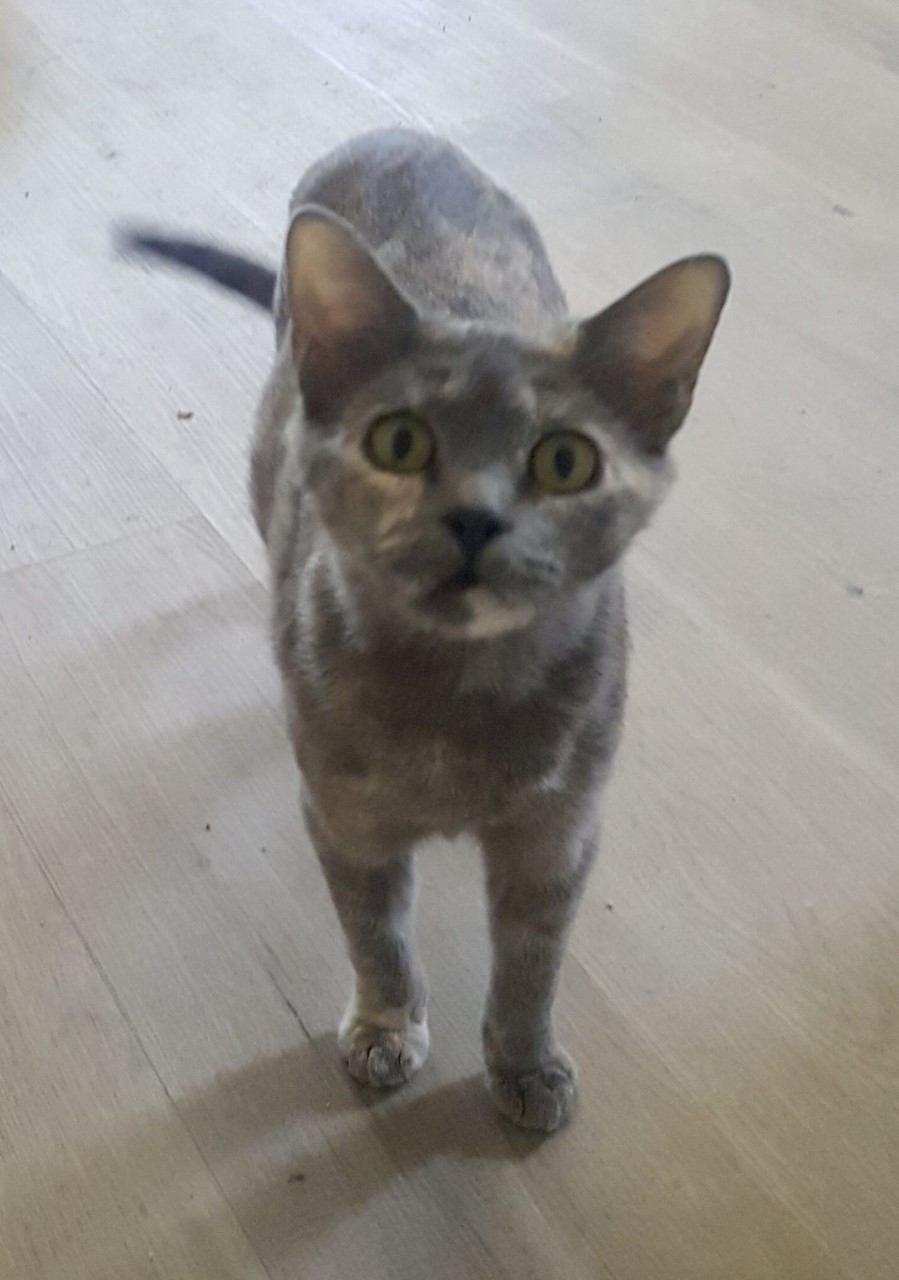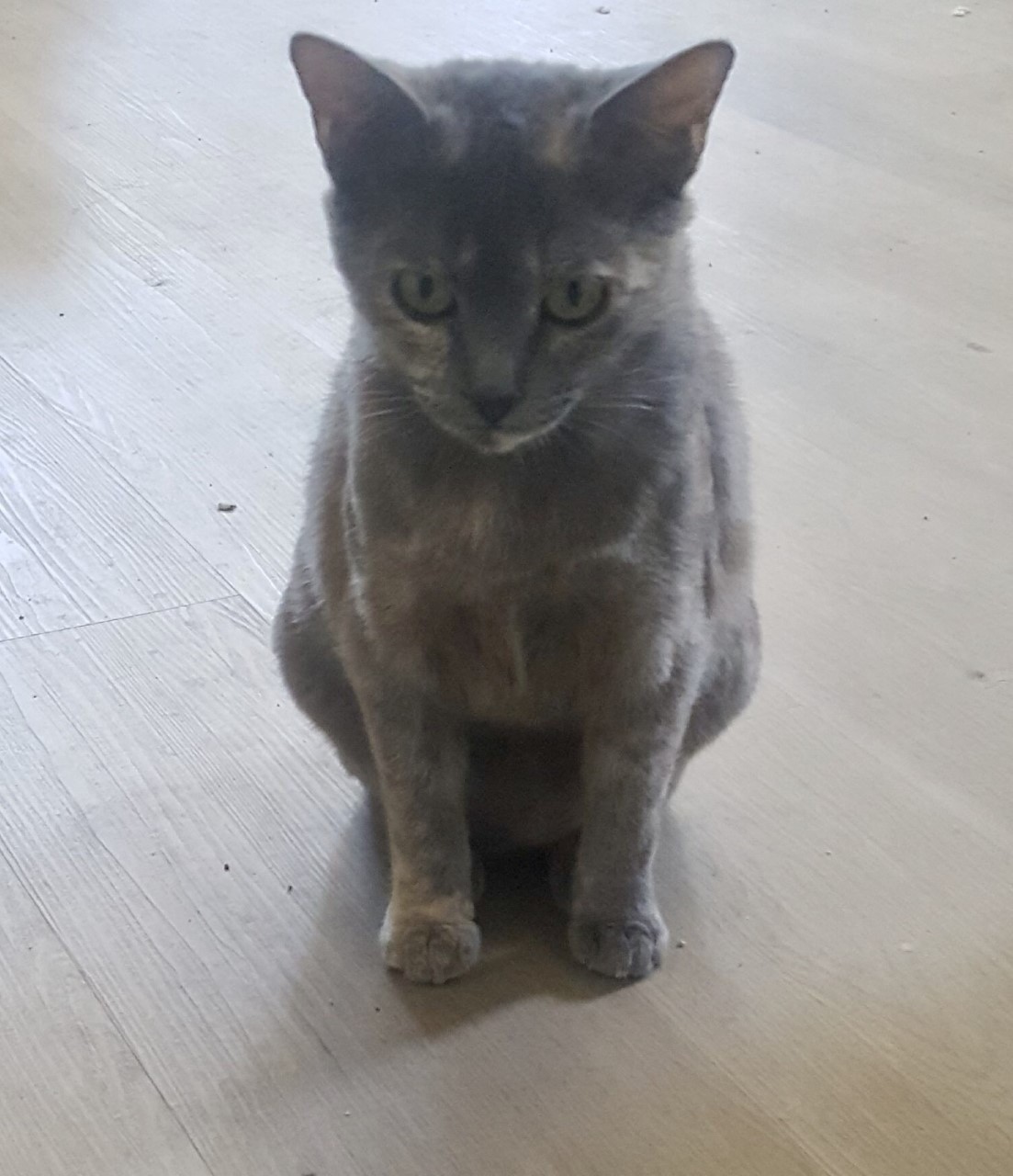 "Sally" is an a 2 yr old Dilute tortoiseshell, she is a sweet adorable and friendly little kitty cat very petite only 5.5 lbs. She gets along good w/other cats. And loves to snuggle and cuddle with you. She is FIV positive. So should be housed by herself or w/another FIV positive kitty cat. She is healty in every other way. But tested positive to this. She has been spayed, micdrochipped and vaccinated and dewormed and monthly flea treated.
What is a dilute tortie?
Tortie is short for "tortoiseshell", a popular coat pattern seen on many cat breeds.
Standard torties have a mix of orange and black fur, either finely interspersed (a brindle tortie), in big splodges (a patchwork tortie), or somewhere in between (just a tortoiseshell tortie!)
Dilute tortie cats have a tortoiseshell coat pattern with one remarkable difference: instead of the striking, dark mix of orange and black, dilute tortoiseshell cats have a muted, almost blue and yellow color.
_________________________________________________________________________________________
"Snickers and Doodles" Chihuahua mixes BONDED PAIR female and Male
(in need of FOREVER FOSTER)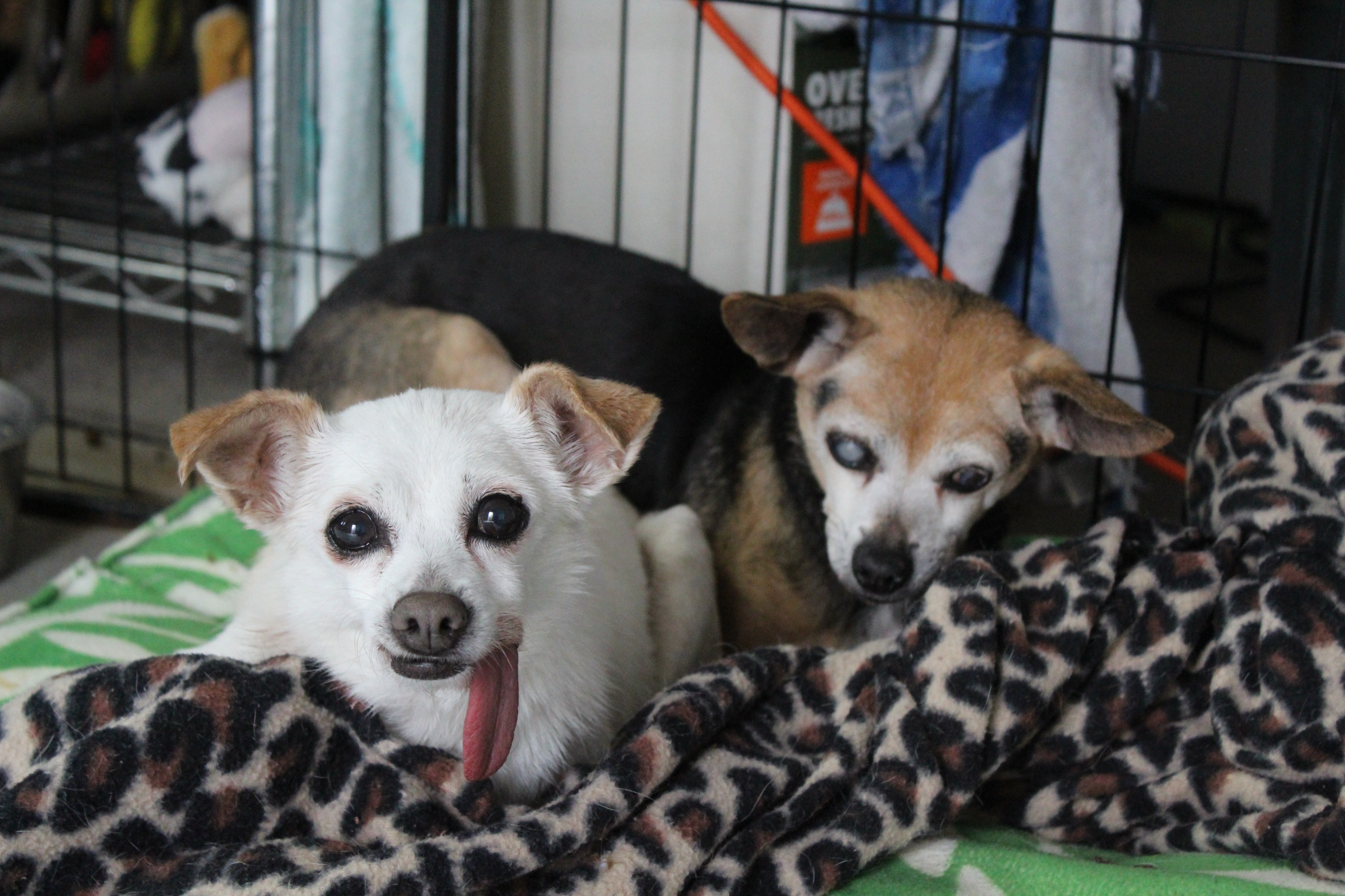 Snickers and Doodles are looking for a forever foster home. (please see this tab to see what that means) https://www.openarmsrescue.org/forever-fosters
They are both super mellow and very loveable. They came to us as an owner surrender from a family that had them since they were young but due to a family emergeny could no longer care for them. They are both AWESOME doggies and are total couch potatoes. Snickers has since had one eye removed (since the photo was taken) and is partially blind in the remaining eye but he gets around well. Doodles is the white female and her tongue always hangs out as she has lost most of her teeth. But it gives her character!
Medical Issues: Geriatric, The male needs daily eye medication in remaining eye and is mostly blind.
13 yrs old - 10 lbs each
_________________________________________________________________________________________
"Leah" Chihuahua - female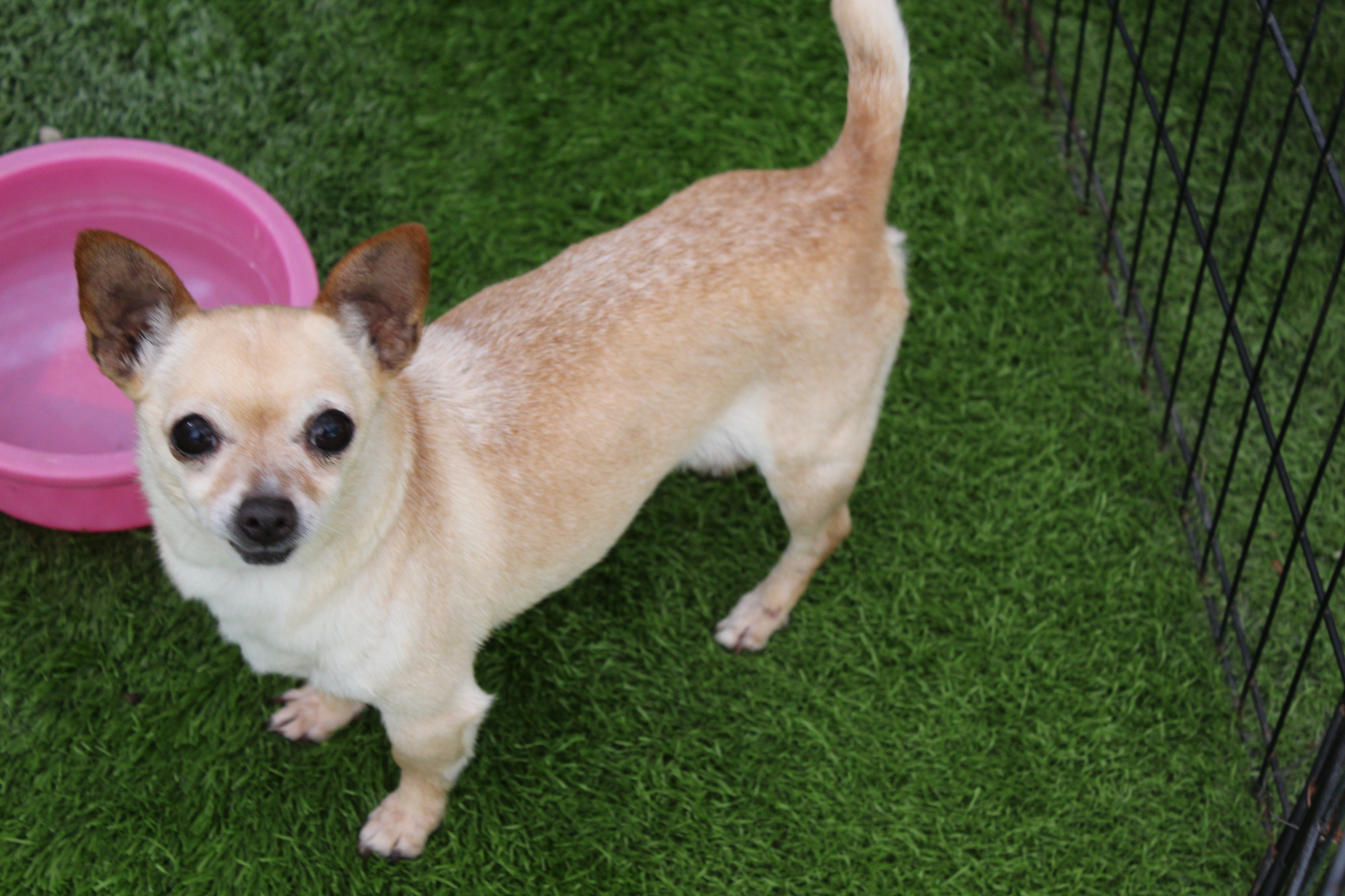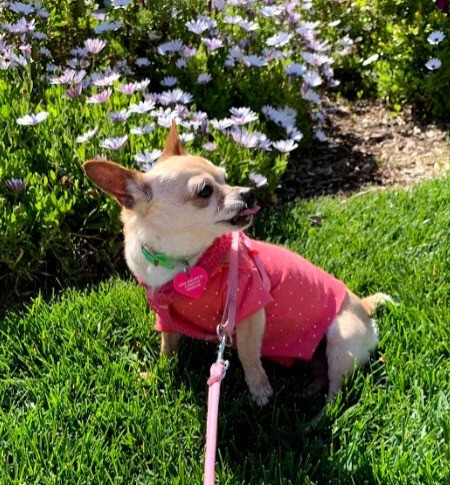 Leah came in to the rescue as a paraplegic. We put her on a course of strict cage rest and she miraculously regained the use of her hind legs. Leah is so happy to be held by someone who loves her that she literally vibrates with joy. Everyone at the rescue loves Leah very much, she is definitely a fan favorite. The temporary paralysis left Leah with some incontinence, but nothing a cute little diaper won't fix. Leah is a 9 year old 7 pound Chihuahua. Leah has been waiting a long time for her forever home, please don't make her wait much longer. Leah would do best in an adult only home.
9 yrs old -7 lbs
_________________________________________________________________________________________
"Charlie" Chihuahua X- Male
youtube video link https://www.youtube.com/shorts/ljLEgX8DpRY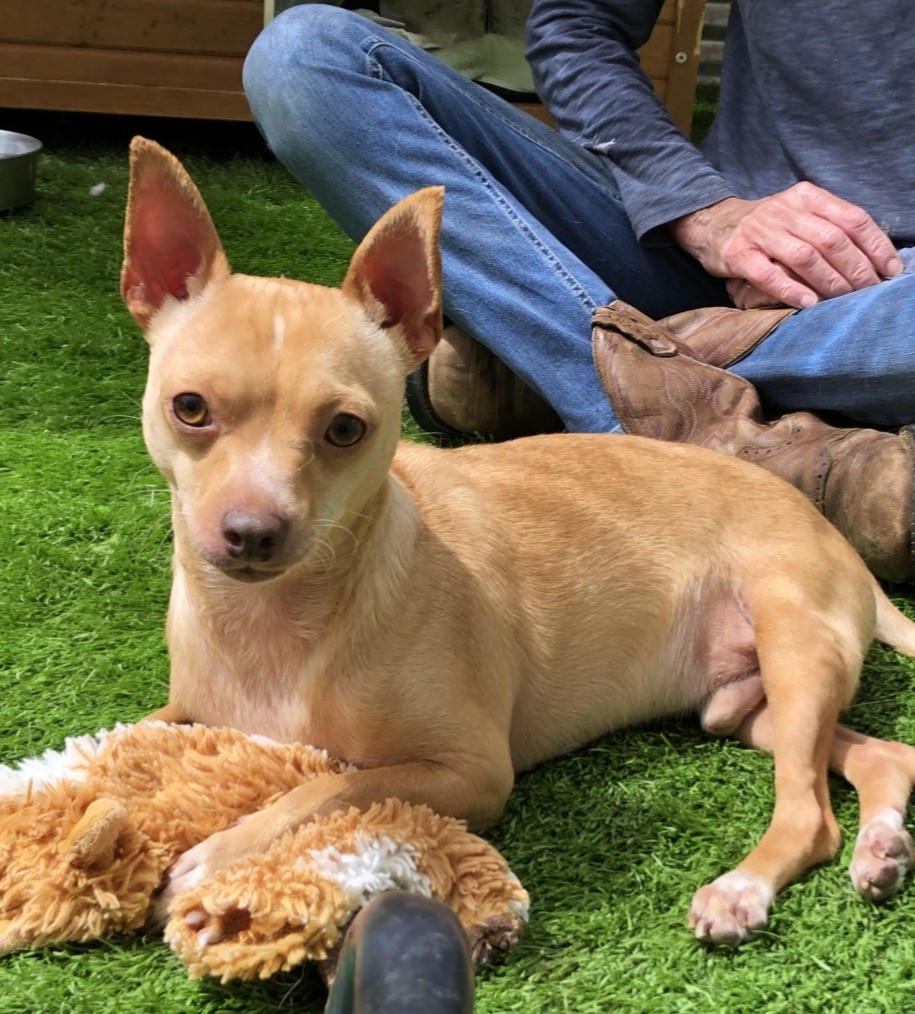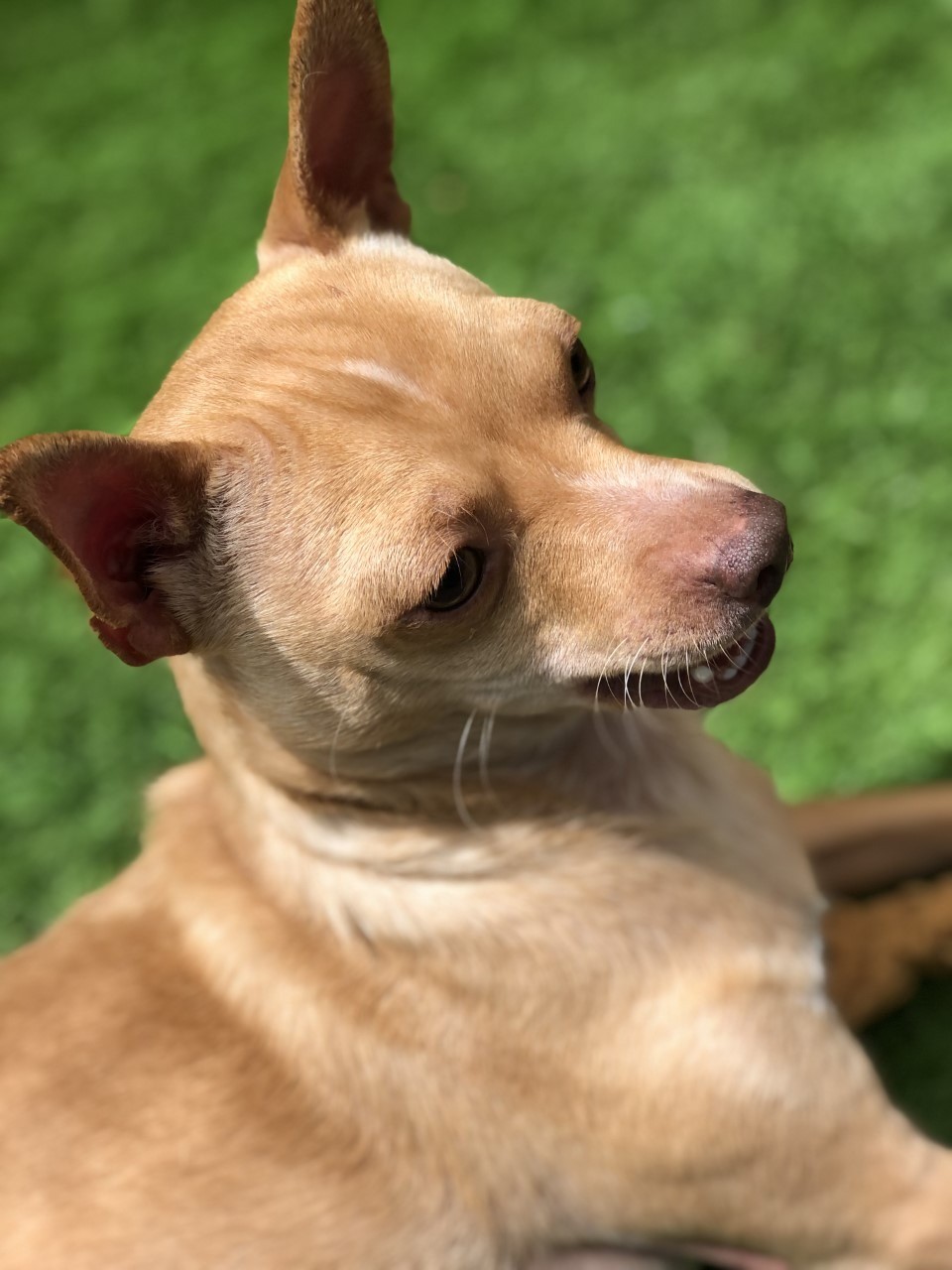 Charlie found himself in a predicament that he could have never imagined, as he lay on the cold, hard shelter floor in terrible pain from being shot in the spine. Confused, in agony, and terrified of his future, this small baby was starting to give up all hope.
The bullet was still lodged in this poor baby's spine. We quickly took him to the vet, hoping to provide this innocent soul some comfort and have the bullet removed. But during the surgery it was discovered that If the bullet was to be removed Charlie this could cause him to become a paraplegic for the rest of his life. Therefore leaving the bullet in allowes him to run and play with a bit of wobbliness, but better than risking becoming a paraplegic.
For now, Chalie is safe and sound at his foster home bouncing around and playing with his foster siblings. Charlie has special needs... he needs help having his bladder expressed. This is VERY EASY to do and we will happily teach you. He would LOVE to have a playmate in his new home.
3 years old - 7 lbs
____________________________________________________________________________
"Maui" Spaniel/Terrier/shepherd mix - Male
YOUTUBE https://youtu.be/Fto-vZVMFdg AND https://youtu.be/r56bE-lIHP0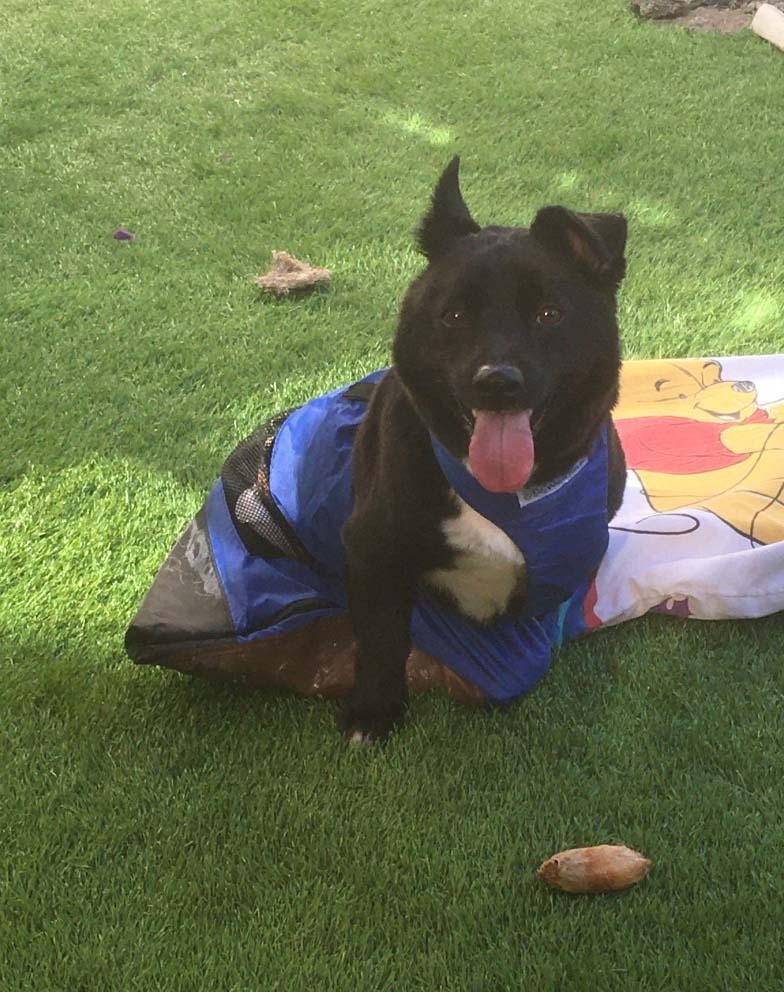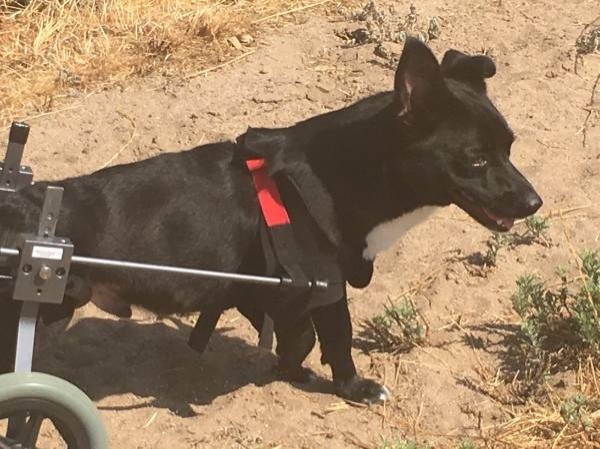 7 years - 22 lbs

Maui is an adorable 22 pound mix maybe some terrier maybe shepherd maybe some lab (but he is small size) it's hard to say but he's an adorable black little love bug he's a special-needs. he is a paraplegic and has a cart and other items that go with him as you can see in the video he is still very mobile and loves to play he's very active and needs an active family he's full of love to give and had a really bad start and a neglectful previous owner who let this happen to him and let it go. will you be at fresh start for him?
We can assist in the training and assimilation of him into the right home.
_________________________________________________________________________________________